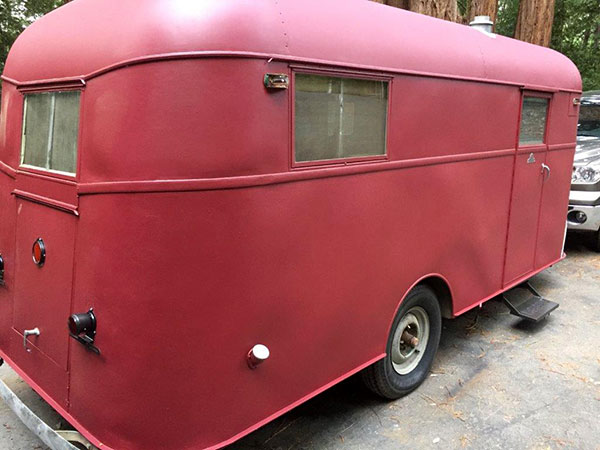 1940 Vagabond Model 16
For Sale – $25,000
Well, it isn't very often that I sell something, especially one of my favorite trailers. Well, "very often" has come. I am selling my very rare 1941 Vagabond.
This 1941 Vagabond has been under cover almost since new. If you look closely at the interior photos, it is near perfect! Nothing in this trailer has ever been refinished. That is just unbelievable.
The original Vagabond ID tag shows the trailer as a 1940. It must have been a late production # and registered as a 1941.
When I found the trailer in the Gold Country in California, it was missing the heater. And the original Coleman stove was missing the grates and some parts. It took a little bit of searching, but I located an original Duo-Therm heater, the same one pictured in the original factory brochure. As for the stove, I found a matching stove with the missing pieces.
The upholstery on the original click clack couch was not in such great shape. It may be hard to believe but I located material that is extremely close to one of the factory photos.
The outside of the trailer was different colors because it was painted over the years reaching through the lattice work on the outside of the shed where it was housed. The masonite is a little warped on one side and a little in the front. There is virtually no visible rot.
The trailer is now one color close to a factory original.
There are two very small repairs in the original linoleum floor.
In the trunk, there seems to be a little water damage but nothing I would even fix.
It has the original pull out step with VAGABOND embossed in the steel.
And better yet, try finding a matching set of VAGABOND hub caps with the name embossed on them.
This trailer is rare — it's complete. This is without a doubt the "nicest" – " original" 1940 Masonite Vagabond I've ever seen.
Call Steven at 408-221-9256 or email stevenkatkowsky@gmail.com.
I'm asking $25,000 or best offer. Make me an offer "YOU" can't refuse!
Click on the thumbnails below for Larger images